---
Tents and halls
Tents and halls with saddle roof are designed for quick and easy-to-rise structure roofing.
Tents serve especially for fast roofing of extensive outdoor social and sports events and similar purposes. In short-term perspective, they can also be used as fabric structures or storage premises.
Halls are suitable for fast and economic construction of permanent, especially storage premises. These fabric tent buildings are optimal structures for tent and mobile buildings. They require no building foundations, they only need flat paved surface.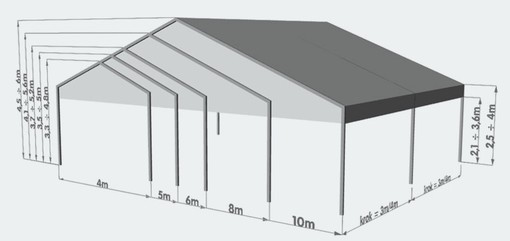 For this type of tent you can choose:
Tent width: 4, 5, 6, 8 nebo 10 m
Eaves height: 2,5 až 4 m
Headroom: 2,1 až 3,6 m
Step: 3, 4 or 5m (krok = module length; the structure and canvas can be extended by the given step up to the required length)
Bearing structure of the tent is made of special grooved profiles of alluminium alloy and steel couplings. All parts of the structure are provided with surface finish - alluminium profiles by anodizing, steel parts by galvanizing.
Canvas is made of varnished PVC buil-up polyester fabric (heavy duty PVC tarpaulin) characterised by high strength and perfect resistance to climatic conditions and rain. They guarantee good light penetrability and colourfastness.
Colour of the canvas can be specified according to current colour sample books. Side parts may be provided with windows made of special frost-resistant foil.