---
Party tents
Party tents are multi-purpose robust self-bearing structures intended especially as presentation or sale facilities but also as background for cultural and social events. They are supplied with square or rectangular layout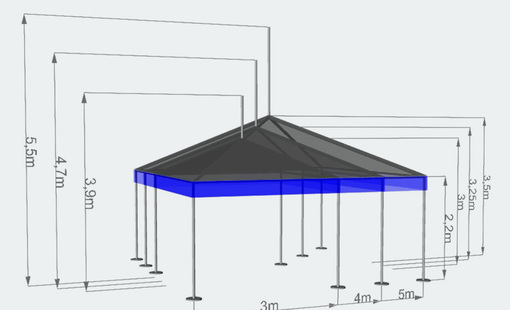 For this type of tent you can choose:
Tent layout: 3x3m, 4x4m, 5x5m, 6x6m, 2x3m, 2x4m, 3x4m, 3x5m, 3x6m, 3x8m, 3x9m, 3x10m, 3x12m, 4x3m, 4x5m, 4x6m, 4x8m, 4x9m, 4x10m, 4x12m, 5x6m, 5x7m, 5x8m , 5x9m, 5x10m, 5x12m
Roof design: pavilon, pagoda, igloo
Bearing structure of party tents is made of Al tubes with the diameter of 50 mm with profiled groovs and steel couplings. The advantage of the structure is its fast assembly by means of arresting pivots with click-in parts.
Canvas is made of varnished PVC buil-up polyester fabric (heavy duty PVC tarpaulin) characterised by high strength and perfect resistance to climatic conditions and rain. They guarantee good light penetrability and colourfastness.
Colour of the canvas can be specified according to current colour sample books. Side parts may be provided with windows made of special frost-resistant foil.