---
Inflatables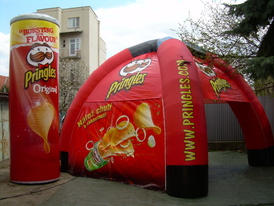 Looking for effective mobile presentation? Inflatable advertising is ideal!
very easy to handle (installation and packing usually within 10 minutes)
mobility (packed inflatable fits in the trunk of a car)
originality (almost unlimited variety of shapes, sizes and design)
attractiveness (people like inflatables, they attracts their views)
long life (if used correctly, normally several years)
Inflatables are currently one of the most effective tools for building a brand or company image. People switch radio or TV advertising, whereas they looks at inflatables which inspire positive emotions in them.