---
Star tents
Star tents in attractive shape of hexagonal pyramid with large surfaces for advertising printing. They are therefore mainly used for presentation purposes. Their benefit is the simple design with wide variety of applications.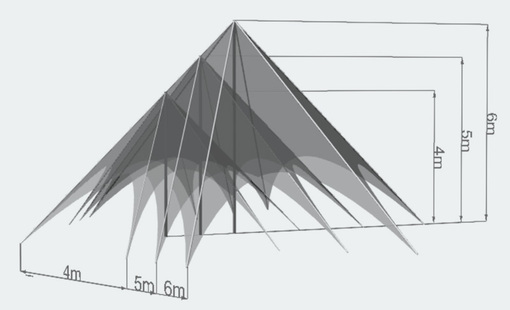 For this type of tent you can choose:
Tent layout: hexagon with the diameter of 8, 10 or 12 m
Profile 50/80 for short-term seasonal operation or profile 70/130 for year-round operation
Bearing structure of star tents is made of special grooved profiles of alluminium alloy and steel couplings . All parts of the structure are provided with surface finish - alluminium profiles by anodizing, steel parts by galvanizing.
Canvas is made of varnished PVC buil-up polyester fabric (heavy duty PVC tarpaulin) characterised by high strength and perfect resistance to climatic conditions and rain. They guarantee good light penetrability and colourfastness.
Colour of the canvas can be specified according to current colour sample books. Side parts may be provided with windows made of special frost-resistant foil.